CHART OF THE MONTH
DECEMBER 2015
Here's a interesting looking chart, indicating the amount of listings sold per month. As you can see the amount of closings for all types of properties in Broward county has dropped since the peak of the Summer. This is typical as most people tend to move in the Summer, before the school year begins. I, however. would not be surprised if we see a spike in November and/or December, as there are a group of home buyers and sellers who like to move before the end of the year. I'm also curious to see how the Winter / snowbird buying season takes shape, especially after the holidays. Got Predictions about the South Florida real estate market? Give us a shout at 954.326.2663 to discuss the details.
Glassman Real Estate Group . "Selling Real Estate in Parkland and Beyond"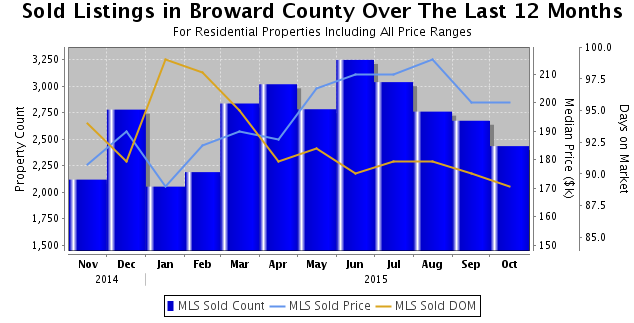 For those of you who are wondering what DOM is, it means Days on Market. Here it looks as if the average days on market is going down, which indicates that homes are selling faster.
Have any questions or concerns about the market? Please don't hesitate to call me direct at 954.326.2663.
GLASSMAN REAL ESTATE GROUP - "Selling Real Estate in Parkland and Beyond!"